100% Acrylic color coat for pickleball courts
PicklePro™ is a factory-textured, user-friendly color coating specifically for pickleball courts.  PicklePro allows for optimal play, better ball bounce, and more speed by using round, high-end sand.  Whether you want a hard court or a cushioned court, PicklePro is the ideal pickleball surface.
We recommend resurfacing pickleball courts more often than other sports surfaces to maintain ideal court conditions due to high use.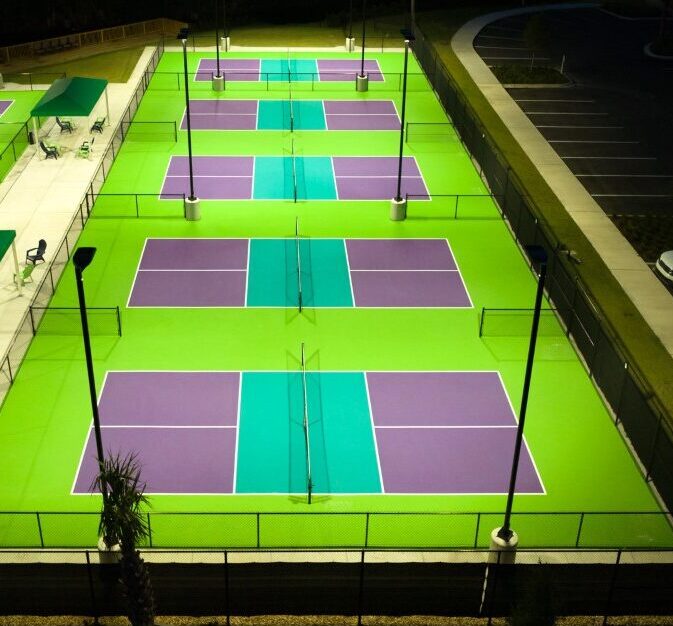 Reasons everyone loves this pickleball surface
PicklePro is durable and made to withstand the test, of this popular game, of pickleball.  The vibrant color, of your choice, will also last due to its proprietary properties consisting of UV-resistant pigments. And last but not least is the enhanced non-slip specialized texture.
We can't forget why our installers love this pickleball surface! They enjoy working with this specialty product due to its ease of use. As we mentioned above, it's a factory textured product meaning it can be drop shipped to your job site and all you have to do is pop the lid and do your magic! Check out some amazing sports courts completed using our proprietary PicklePro surface.
Frequently Asked Questions
Common questions about PicklePro
Question 1
Answer to question one goes here
Question 2
Answer to question goes here
Question 3
Answer to question one goes here
Question 4
Answer to question goes here
Have more questions?  We're here to help.